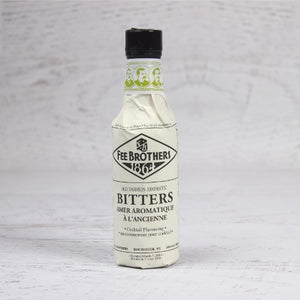 150 ml. Alcohol free bitter, suitable for alcohol free drinks! Vegan. GF.
Ingredients: water, glycerine, flavours: angostura bark and other spice flavours, citrus oil and gentian and colours: Caramel Colour, FD&C Red #40 and yellow #6.
The Old Fashioned represents what is perhaps the oldest form of cocktail known! Fee Brothers flagship flavour, Old Fashion Bitters, gets its aromatic and distinctive flavour from ingredients that include gentian root and citrus oils. Fee Brothers has been in business since 1864 specializing in cocktail mixes, bitters, and cordial syrups. Old Fashion Bitters is an essential component for preparing cocktails such as an Old Fashioned or a Manhattan, and is used by contemporary mixologists in craft cocktails.