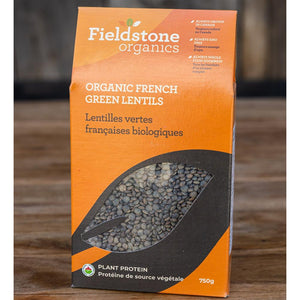 750gr. Non GMO, organic
 Considered the gold standard in lentils, these small, deep olive green and black speckled lentils provide an exciting accent to any dish. Easily seasoned, they add an earthy, peppery flavor which complements rich stocks and sauces.
Our lentils are grown in beautiful British Columbia on healthy organic soils.
It is part of Fieldstone Granary's coordinated Organic Producer plan, where crops are grown within one degree of separation, according to the high standards of the Canadian Organic Regime. This way Fieldstone can assure a high level of purity and integrity of the grain.
Grown and packed in BC, Canada