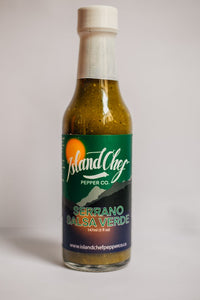 150 ml. Made on Vancouver Island, BC, Canada. 
A taco night staple. Inspired by traditional Salsa Verde our Serrano Salsa Verde gives you the freshness of charred tomatillo and lime to perfectly balance the heat of our serrano and jalapeno. Our entry level sauce that is suitable for any Spice Lords in training.
Heat Level: 2 out of 5
Ingredients: Serrano, Jalapeno, Tomatillo, Cilantro, Lime Juice, Salt
Island Chef Pepper Co. is a family owned business located on Vancouver Island. We are run by local Chef, Vince Capitano. Our hot sauces are hand crafted and the entire process is personally handled by Vince. It is our goal to ensure that our products provide a flavourful experience that enhances your favourite meal. From mild Serrano to intense Carolina Reapers, there is a sauce for every spice lover.