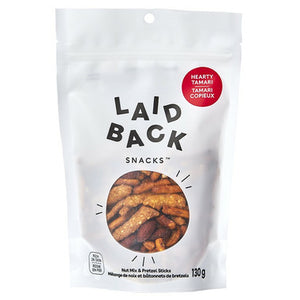 130 gr. Vegan    
Hearty Tamari is one of the Laid Back Snacks' most popular savoury snacks. This is a fantastic healthy alternative to those no good potato chips. Instead of empty calories, Hearty Tamari will leave you feeling happy and satiated. Sesame sticks and spicy pretzels mix with almonds and cashews, all lovingly slow-roasted in delicious tamari. This exotic taste from Japan confirms what Laid Back Snacks' already knew – for good times, make them Tamari times.
Features:
Made in Canada
Vegan
High protein
Ingredients:
Dry roasted almonds, Dry roasted cashews, Sugars (pretzel sticks (enriched wheat flour, salt, corn syrup, yeast)), Oat bran sesame sticks (enriched wheat flour, soybean oil, sesame seeds, oat bran, bulgur wheat, salt, beet powder, turmeric), Tamari sauce (soybeans, wheat, sea salt), Canola oil, Powders of garlic and onion, Spices
Packed in a facility that also processes peanuts, tree nuts, wheat, milk, soybeans (soya), egg and sesame.
Made in Richmond, BC