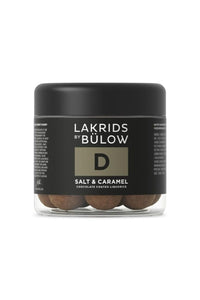 125gr.
D-Salt & Caramel
It is almost impossible to resist this combination of salted caramel and sweet liquorice. D is the perfect sweet-salty experience, ideal to satisfy your mid-afternoon munchies together with a cup of tea or coffee. Feisty and gentle at the same time.
Gluten free and suitable for vegetarians. 
ABOUT LAKRIDS BY BÜLOW
Lakrids by Bülow is an iconic global artisan liquorice brand. Indulge or buy as the perfect gift for any occasion. Created by Johan Bülow in Copenhagen using only the finest natural ingredients. All products are gluten free.