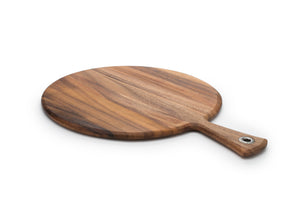 Size: 0.5x12x16"
Serve a delicious cheese platter in style at your next occasion. Made of gorgeous Acacia hardwood, this Round Paddle Board is functional and beautiful due to its rich, shimmering colors. The featured grommet allows you to easily hang the board on display when not in use or for air drying. These handcrafted acacia wood paddle boards are the perfect centerpiece board to hold your cheeses, cured meats, olives, dried fruits, nuts and crackers. Also great for smaller pizzas, flatbreads, burgers and sandwiches.
This product is made from Acacia Wood from Thailand, a non-endangered species that is not harvested from rainforests. In fact, we plant a tree for every tree we use.

**Use & Care**

After use, wash this product in warm soapy water and wipe excess water off with a dry towel. Never soak or leave water on the wood during drying as it may result in warping over time. Wood products should never be washed in the dishwasher.

Rejuvenate and protect the your board rubbing it down with Ironwood Butcher Block Oil (sold in store) after each use. When the board is dry, apply the oil liberally and allow it to soak in thoroughly before use. Regular application of our Butcher Block Oil will prevent cracking and preserve the rich natural colors of the wood.

From time to time, the surface may become "bumpy". This is completely natural as we leave all of our wood in its natural state with no varnishes or lacquers. You can simply use a high grit sandpaper to smooth it out and oil it again to bring it back to new!