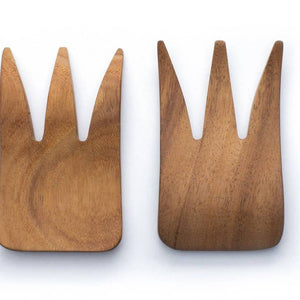 Serve salad in style. Our Bear Claw Salad Servers feature a traditional Alaskan design that provides the most natural feel when tossing and serving salad. These unique salad serving utensils are made from gorgeous acacia hardwood, providing you with beautiful, rich, shimmering colors and long-lasting use. Pair this set with one of our high quality wooden salad bowls for a complete dining room table arrangement. Decorative functionality at its finest.

**Use & Care**
Wash Ironwood Gourmet products in warm, soapy water and thoroughly rinse with clean water. Do not soak. To dry, prop up off of counter to allow all surfaces to air dry evenly. Wood products should never be washed in the dishwasher.

After drying, rejuvenate and protect the wood by rubbing it down with Ironwood Butcher Block Oil. Apply the oil liberally and allow it to soak in thoroughly before use. Regular application of our Butcher Block Oil will prevent cracking and preserve the rich natural colors of the wood.