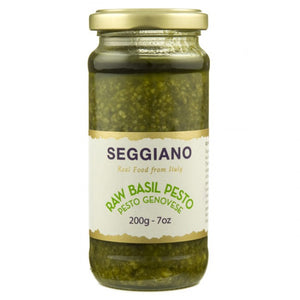 200 gr
We believe that this is by far the best pesto on the shelves.
Made from our producer's own fresh Ligurian basil, this is a fabulous, raw, unpasteurised pesto packed with fresh, aromatic flavours. The tender top leaves are washed, chopped and preserved in olive oil within hours of being hand picked. It doesn't contain cheese, so it's suitable for vegans. 
Our best seller – everybody loves Seggiano Basil Pesto!
Raw and unpasteurised - you can really taste the basil
Vegan – no cheese, so everyone can enjoy it
With extra virgin olive oil rather than cheap olive oil or seed oil
Made with Ligurian Basil grown free chemicals or pesticides
The best essential larder stand-by
ingredients
Extra Virgin Olive Oil, CASHEW NUTS, fresh DOP Genovese basil 30%, sea salt, pine nuts.
GMO FREE, 
VEGAN, 
GLUTEN FREE, 
VEGETARIAN, 
WHEAT FREE
Once opened, refrigerate and use within ten days, keeping the surface covered with a layer of extra virgin olive oil. Store away from heat and light.
PRODUCT ORIGIN: Piemonte, Italy