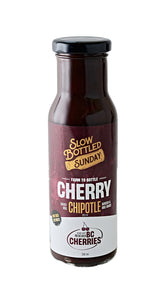 250 ml. Vegan and GF
A full-bodied sauce with zero nonsense for all your hunted or gathered BBQ'd cuisine. No BBQ? No problem. Delicious on pizza, burgers, tacos and pulled pork or jackfruit.
Our sauces and condiments are loaded with fresh, delicious yet unwanted fruit, the "ugly" stuff, saved in collaboration with BC farmers. The result is naturally rich and surprisingly versatile flavours. When our kitchen is full of with local ingredients and our pot is warm, we like to imagine that we're cooking for neighbours, near and far, on a slow Sunday afternoon. Thank you for joining BC's tastiest rescue mission. 
Together with BC farmers and our customers we've saved
65,000 pounds of fresh food from going to waste since 2021.
Thank you BC!
Made in Hedley, BC, Canada.