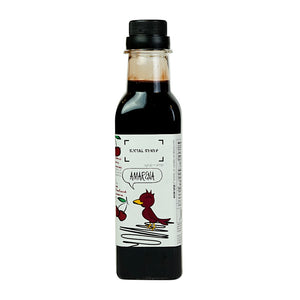 250 ml.
Ingredients: sugar, glucose fructose syrup, amarena juice colors: anthocyanin, carmine, citric acid, flavours, preservatives potassium sorbate, sulphites
A famous Italian wild cherry preserve with a distinct flavour for drinks or dessert.
Amarena Syrup is made with wild black cherries that has distinct sweet, bitter and herbaceous flavour. It's delicious mixed with soda water and makes spectacular cocktails like a Cherry Blossom or Clovers Club. The syrup can be used to flavour sorbet and is delicious poured over almond cake, panna cotta, crepes, and ice cream.