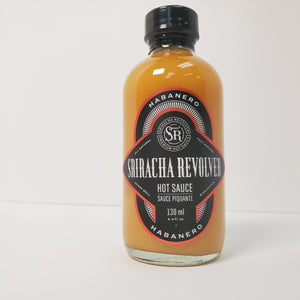 130ml. Vegan. GF
With each bottle purchase, Eden West Gourmet will donate all proceeds to Indian Residential School Survivor Society.
If you would like to make an additional donation, please click here, choose the amount to donate, add to your cart, and we will make that donation on your behalf!
This donation is topping the ongoing support from Sriracha Revolver towards various organizations supporting the Indigenous Community. As seen on their website: "An all new Habanero hot sauce made originally for a fundraiser in June. Thanks to your support, the fundraiser was an amazing success. Now it's back as a regular feature! A donation will be given, to various organizations who support the Indigenous Community, for each batch that's made, so this sauce will continue to have a giving focus."
Tasting notes: Delicate floral and notes of fresh butter with rising heat. Perfect for a poached egg, fried rice, dumplings, and of course tacos and burritos.
Ingredients: Vinegar, organic mango, garlic, organic cane sugar, bell pepper, habanero, sea salt
Shake well. No colours added, no preservatives, all natural. Vegan
Sriracha Revolver is a women and indigenous owned brand of premium, all natural sriracha-style hot sauces, made in small batches, in Vancouver, BC.