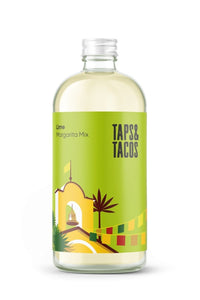 MAKES 6 MARGARITAS (532 ml)
Makes 6 Margaritas
Made with Real Fruit.
Taps & Tacos Margarita Mix is a premium craft cocktail mix from Port Moody B.C.
Shake your own refreshing Margaritas, perfect for any occasion.
Mixes well with : Tequila, Mescal, Vodka
Non Alcoholic option : Mix 1.5 oz with a glass of Soda Water
Recipe :
3oz Margarita Mix

1oz Tequila (not included)

Shake with ice

Pour into salt rimmed
Ingredients: cane sugar, lime juice concentrate, pineapple juice concentrate, citric acid, malic acid, natural flavors, botanical extracts, ascorbic acid, potassium sorbate.

Keep refrigerated for 1 month after opening. No refrigeration required prior to opening.