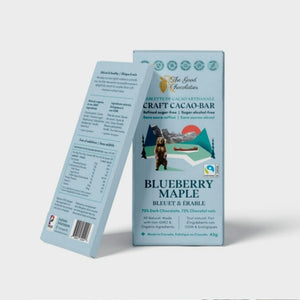 45gr. Vegan and GF
Cozy – Sweet – Fruity
Vegan, dairy-free, soy-free, gluten-free, refined sugar-free, nut-free, paleo
Maple Syrup Sweetened
Simple, delicious, and everyone's favourite. This rich chocolate base is topped with local Blueberries from Langley. It's the bar you buy for someone else but end up eating by yourself. It's that delicious. Forget about bitterness in our 75% dark cacao bars and just indulge. It's perfect for your cozy afternoon snack and to share with friends who are new to healthy chocolate. Also approved by children.
Packed in fully compostable packaging.
We love our cacao. We stay away from artificial fillers and emulsifiers so that the good in Our chocolate remains good in your body. Instead of refined cane sugar, we use nature's coconut sugar, maple syrup, raw manuka honey, monk fruit, and dates. Our cacao and ingredients are 100% organic and fairly traded.
Cacao paste**, raw cacao butter**, coconut sugar**, Real Canadian Heritage maple syrup*, dehydrated blueberries***, bourbon vanilla*, monk fruit.
*Organic **Organic & Fair Trade ***Organic & Local from BC
Handmade in Vancouver, BC, Canada