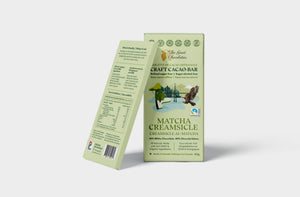 45gr. Vegan and GF
Bright – Silky – Crisp
Vegan, local partnership with WHISK Matcha
Maple Syrup Sweetened
Introducing the Matcha Creamsicle – a luxurious, creamy treat that is a game-changer in the world of indulgences. Made with the finest ingredients, it is THE healthy alternative to conventional white chocolate. Sweetened with a hint of maple sugar and 2 (!) servings of Matcha per bar. It's almost too creamy to be true.
Packaged in fully compostable packaging.
We love our cacao. We stay away from artificial fillers and emulsifiers so that the good in Our chocolate remains good in your body. Instead of refined cane sugar, we use nature's coconut sugar, maple syrup, raw manuka honey, monk fruit, and dates. Our cacao and ingredients are 100% organic and fairly traded.
Ingredients: Raw cacao butter**, coconut cream powder**, coconut sugar**, Real Canadian Heritage maple syrup**,  WHISK matcha powder**, bourbon vanilla*, monk fruit.
*Organic **Organic & Fair Trade ***Organic & Local from BC
Handmade in Vancouver, BC, Canada