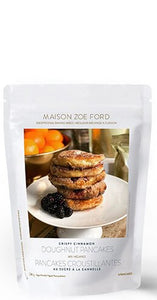 540 gr
Our Crispy Cinnamon Doughnut Pancakes were SO popular, we decided to create a brand new flavour- One that has our famous Doughnut Pancake crispy and fluffy texture, but that also comes with it's own sauce! Just a few ingredients and you have the most incredible pancakes for family and friends. Also makes an incredible gift for the fgood lover in your life!
These are very fluffy and crispy doughnut pancakes that are fried and should be served piping hot!
1 bag = 12 pancakes
Ingredients: 
Unbleached flour made of hard red spring wheat from Quebec (Niacin, reduced Iron, Thiamin, Riboflavin, Folate) sugar, baking powder (sodium bicarbonate, corn starch, monocalcium phosphate), cinnamon, salt. Cinnamon sugar: sugar, cinnamon.
Contains: wheat. Manufactured in a facility that processes nuts and peanuts.
You will need: 
2 cups of buttermilk 
2 tbsp vegetable oil 
2 eggs 
6 tbsp vegetable oil 
4 tbsp unsalted butter for frying
Please follow the directions exactly for a perfect result.
Mix ingredients are vegan friendly.
See recipe video: https://zoeford.com/pages/videos-1
Made in Quebec, Canada