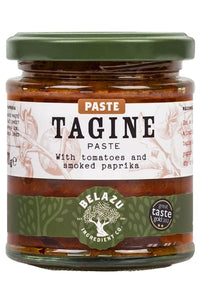 170 gr
Made with smoked paprika and Beldi Preserved Lemons, our Tagine Paste helps you get intense, smokey flavours into stews, pot roasts, roasted vegetables and so much more.
In Morocco, the cooking pot, tagine, is given as a traditional wedding present. But instead of gifting box-fresh new ones, families hand down their oldest, most treasured tagines. It is believed that, after many years of use, each one imparts its own special flavour to the stew within.    
Usages:
Stir into vegetarian bean chilli
Use as a base for a tomato sauce
Add to fried mushrooms and crème fraîche
Marinade for roasted vegetables
Mix into Middle Eastern meatballs
Sunflower Oil, Onions, Tomato Paste (12%), Fresh Coriander, Fresh Parsley, Salt, Sweet Paprika, Preserved Lemons, Smoked Paprika (2%), Garlic Puree, Dried Cumin, Dried Coriander, Dried Parsley. Acidity Regulator: Citric Acid.