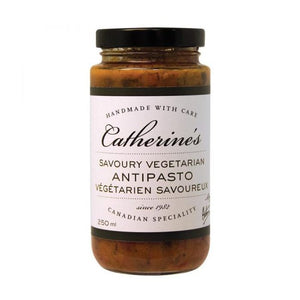 Savoury Vegetarian Antipasto
A modern take on our original Antipasto with some heat.

A vegan product with extraordinary taste for all!

A delightful fresh medley of ingredients in a tasty fresh tomato & mustard vinaigrette.

Serve chilled on crackers, with cheese on a crusty bread, for a healthy & tempting snack at anytime.
INGREDIENTS: TOMATOES, RED PEPPERS, CANOLA OIL, CURRANTS, CAPERS, ALMONDS, ONION, GARLIC, HERBS, MUSTARD, WINE VINEGAR, CHILI PEPPERS.
Made in Ontario, Canada