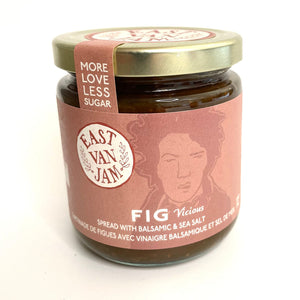 250ml. Vegan. Gf.
Once a sweet kind of boy, Fig Vicious grew up to become an all-out primo bad-boy. Not your run-of-the-mill naughty, but the kind who will steal your girl, love her up good then leave her heart-broken and sour.  Then he'll throw a little salt in the wound.
Not to be confused with the sweet sort of charmer, be weary of his slaying-eyes and salty tongue.
Paired with balsamic vinegar and Mediterranean sea salt, eat this savory jam with a sharp cheese and earthy crackers.
Ingredients:
East Van Backyard Figs
Balsamic Vinegar
Organic Cane Sugar
Mediterranean Sea Salt
Pectin
Citric Acid