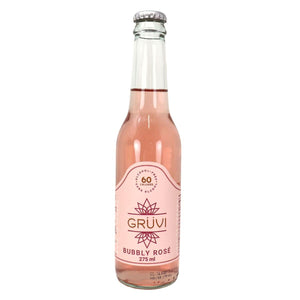 275ml
Price per unit. Comes by the unit of pack of 4. Select 4 times this product for 1 case.
Meet your new bubbly bestie.

Our alcohol-free sparkling rosé is crisp, effervescent, and fruity on the nose, with notes of tart green apple and fresh strawberry.
This sparkling sipper is gluten free, alcohol free (0.0%) and only 60 calories per bottle. So go ahead, rosé all day. You deserve it.

Feeling a little fancy? Try mixing a bottle of Bubbly Rosé with muddled figs, honey, and a squeeze of lemon juice for a zero-proof cocktail that tastes as good you'll feel tomorrow morning (buh bye, hangovers.)
Ingredients: Carbonated spring water, California-grown chardonnay and cabernet grapes, natural flavors, malic acid, tartaric acid, natural color, tannic acid, carbon dioxide.
Every ingredient is purchased from GFSI (Global Food Safety Initiative) certified businesses, right down to the carrier.
Made in USA