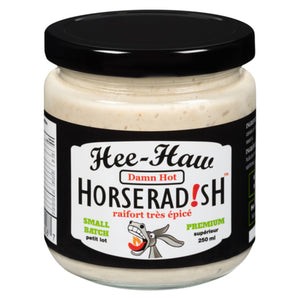 250 ml. GF. Vegan
Hee-Haw Damn Hot All Natural & Non-GMO HorseRadish is made from simple ingredients with no fillers or artificial preservatives / ingredients and is the hottest horseradish we've ever made...and you've probably ever tried! It's also wickedly good tasting. Truly the perfect small batch, gourmet pairing to the finest cuts of meat, alternative meat, mashed potatoes, oysters and caesar drinks you can find. Try us, you'll see!
Ingredients: Non-GMO Horseradish Root, Filtered Water, Non-GMO Canola Oil, Sugars (Non-GMO Cane Sugar), Non-GMO White Vinegar, Non-GMO Sea Salt, Non-GMO Psyllium Husk Powder, Non-GMO Natural Mustard Oil. Contains: Mustard. 

To boot...Hee-Haw HorseRadish is a truly premium product because we HAND PEEL all of our horseradish root before grinding and mixing it into small batches. No one else does! Getting rid of that nasty peel makes Hee-Haw Creamier, Hotter and definitely Less Bitter than any horseradish you've ever tried before. As we like to say...Treat your meat (& potatoes!) to the good stuff. You won't be disappointed!
Made in Victoria, BC