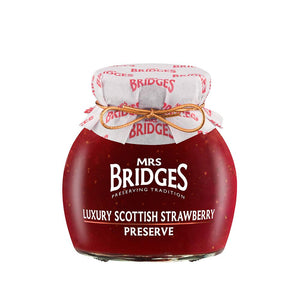 340 gr
A luxurious preserve made with Scottish strawberries bursting with fruit flavour. Our highest fruit preserve, made with 60% fruit.
Ingredients:
Strawberries, Sugar, Gelling Agent: Fruit Pectin, Acidity Regulator: Citric Acid. Prepared with 60g of Fruit per 100g. Total sugar content 65g per 100g.
Nutrition Information (typical values per 100g):
Energy: 1156kJ/272kcal, Carbohydrate: 67.3g (of which sugars) 67.1g, Protein: 0.5g. Contains negligible amounts of fat and salt.
Suitable for:
Vegetarians, vegan and gluten free diets